Scrap The Dictaphone, It's Dictating Time – Smartphone Style!
Dictating with your smartphone is easy.  Most smartphones come with a recording app, already installed, and high-quality microphones which produce exceptionally crisp and clear audio.
What's the one thing you never leave home without?  Let me guess – your smartphone.  If we're lugging our smartphones around with us, why not use it to your advantage?  Forget about the professional digital dictation device, such as the digital Dictaphone.  Anyone who carries their smartphone with them these days doesn't need anything else to dictate and upload audio for transcription.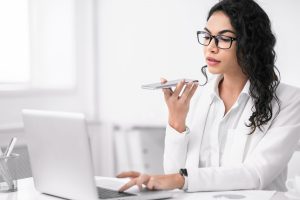 Today, dictating with your smartphone is easier than ever.  You are no longer tethered to your office.  Our trusty phones have all the functionality needed to produce high-quality dictations for transcription.  And what's more, it's easier than ever to upload to your secure NZ client account, directly from your smartphone.
Using your smartphone's browser, you simply log into your secure client account with Pacific NZ.  How?  We recommend you use Google Chrome browser because our client portal is optimised for best use with Chrome.  It doesn't matter whether you have an Android, iPhone or any other type of smartphone, most smartphones these days allow Google Chrome browser to be installed.
How to dictate with your smartphone and upload to your secure Pacific NZ client account
Using Google Chrome, enter the following https://www.pacifictranscription.co.nz
Click on the 3 dots at the top right of your screen and select 'Add to Home Screen'. This will create a shortcut app on your mobile's home screen.
You can arrange your Voice Recorder App and the Pacific NZ shortcut beside each other on your smartphone.
Record your audio file(s) via your recorder app, click on the Pacific NZ app, and enter your username and password.
Select upload new audio.
Scroll down to select files, then files.
Click 'audio' (options are images, audio, videos etc)
Upload
Remember, you need to have a secure client account already set up with Pacific NZ before you go ahead and upload your audio for transcription.
Don't have a client account?  No problem.  It's easy to create a secure client account with Pacific NZ.
We're all being a little more mindful and frugal with the precious resources we have.  Why not use what you've got – your smartphone – and a genuine desire to get dictating!
Nothing's holding you back now.  Dictating with your smartphone is easy. Drop us a line and we'll advise you on the best solutions to meet your specific dictation and transcription needs.